Power Bass S-1004/S-1004D 10" Subwoofer
SKU: S-1004/S-1004D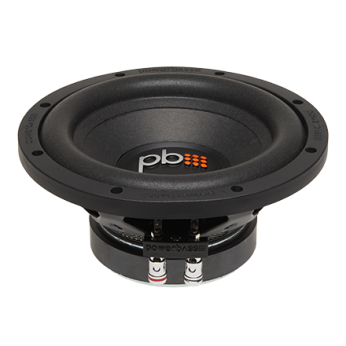 Versatile Value, Well Suited for Small Sealed or Ported Enclosures
275 - 550 watts RMS

Impedance: Single 4 ohm or Dual 4 ohm

Mounting Depth: 5.25"

.50 - .75 Cubic feet sealed air box volume

9 1/8" cutout diameter
Description

Product

Reviews
PowerBass S-Series woofers now sport a treated non-resonant finished, stamped steel basket that is custom tooled with the distinctive X design. A 2" BASV voice coil former is used on the 10 and 12-inch models and like the entire Autosound range,offers a Large Roll foam surround for precise linear movement of the cone, which equals loud bass.
Features
RMS Power handling: 275 - 550 Watts

One Way Linear (Xmax) 9 mm

Voice Coil Size: 2"

Frequency Response: 33Hz - 500Hz (Single)/33Hz - 500Hz (Dual)

Sensitivity (Spl) 86 db

Single or Dual 4 Ohm

Mounting Dimensions: Depth; 5.25""

Sealed box volume required: .50 - .75 cubic feet

Hole size: 9 1/8"
FREE Shipping!
Add your review of this product
Power Bass S-1004/S-1004D 10" Subwoofer
Great Sound
Thank you for helping me choose the right speaker and custom box for my truck. I had it installed and the PowerBass sub really sounds good.