Toyota Tacoma Double Cab 05-16 Dual Subwoofer Box
SKU: 05tacomadbldual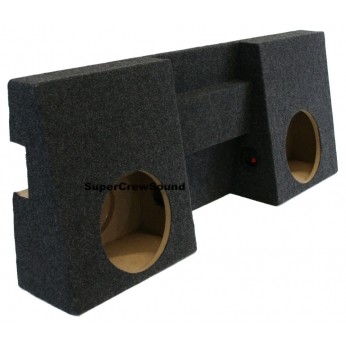 Description

Product

Reviews
Is your Truck Stereo Lacking Bass? Call Us 877-424-0979.
Get a Subwoofer box for your 2005 - 2016Toyota Tacoma Double Cab and start making enjoying the sound quality you can get from your truck and a new custom made subwoofer box.
This subwoofer box installs in minutes and is engineered to fit the 2005 - 2016 Toyota Tacoma Double cab. We use high quality MDF and precision manufacturing in all of our Subwoofer enclosures.
Features:
Fits two 8 or 10 inch subwoofers

Fits behind the seat

Amp Rack is 14.5" wide

Remove Plastic Trim behind seat

Remove brackets on cab wall so box can slide back against wall

Child restraint seat brackets can remain in place

MDF construction

Recommend speaker grills

Air Space = .75 cubic foot Per Sub

Mounting Depth = 5 3/8" (Optional 6")

Mounting Depth based on 6" diameter magnet

Speaker terminals included

Hole cutout for 8" Sub = 7"

Hole cutout for 10" Sub = 9 1/8"

Subwoofers and/or amplifiers not included

Charcoal Grey Carpet

Made in the USA

The Alpine type R 10" subwoofer will not fit due to the size of the magnet.
Optional carpet colors available to match your interior
NOTE: Please tell us what subwoofer you are planning to use, so we can ensure proper fit in your speaker box.
We build all of our Subwoofer boxes to order, so if you need your box to be customized we can do that for you. Most of our Subwoofer enclosures include multiple cutout size options, mounting depths and colors. If your subwoofer enclosure needs a non-standard hole size, just let us know and we will be happy to customize it for you for FREE!
Add your review of this product
Toyota Tacoma Double Cab 05-16 Dual Subwoofer Box
Great sound
Very excited to have my mini concert experience whenever I like. This subwoofer box helped me feel the music and makes my driving experience much better. I do not mind traffic anymore. Fits behind my double cab seat perfectly.
Toyota Tacoma Double Cab 05-16 Dual Subwoofer Box
Nice Fit
Bought for Grandsons truck. He has been all grins since the install. The stereo installer liked it better than the models he had available from his supplier. Said if he was to make it himself, he would use this design. Fit like it should and sounds great. Used the recess to mount amp. Keeps the install clean.
Two 10" DD 500 Subs and DM 1000 AMP.
Toyota Tacoma Double Cab 05-16 Dual Subwoofer Box
Great build
I bought this for my 2016 double cab and it arrived fast and we'll packed. The builders at supercrew informed me that my subs may not fit because of the very large diameter magnet (sundown sd3). I took the gamble and had them make me one anyway and I do NOT regret it. I did have to do a bit of dremmell work to get them to clear but nothing was compromised structurally. Great build quality and overall a pleasant purchase. When your the first guy on the block running a new sub on the market you gotta take a gamble every now and then. I would recommend to anyone looking for quality affordable american made sub boxes to shop Supercrew Sound.
Toyota Tacoma Double Cab 05-16 Dual Subwoofer Box
Very satisfied
When I called to order a box for my 2016 Tacoma double cab the person I spoke with was very knowledgeable. Ordering was fast and easy. I received my box exactly when promised. When the audio shop put my system in they told me the box fit perfectly and they were amazed that so much sound was able to come out of such a small space. Very good quality.
Toyota Tacoma Double Cab 05-16 Dual Subwoofer Box
Tacoma double cab speaker box
This box is a PERFECT fit. Thank you!
Toyota Tacoma Double Cab 05-16 Dual Subwoofer Box
Awesome..
This box fit like a glove and i love the way it sounds. Bass hits crazy hard for such a tight fit but after 3 different boxes, supercrew was the only place that listened to their customers needs and then built what i needed. I recommend these folks to anyone and you wont be disappointed. You guys ROCK. Thanks so much.