One of the questions we receive a lot of now is "will your dual subwoofer box fit my 2017 Tacoma Double Cab".
In 2016, Toyota started to make changes to the Tacoma Double Cabs by adding cabin vents to the back cab wall area. We have altered our 2016 Toyota Tacoma Double Cab subwoofer box to fit  by narrowing the top of the box. This allows the cabin vents to stay in place and the subwoofer box  not to press up against the vents. Our dual, single, triple and single with amp rack subwoofer boxes will all fit the 2016 Tacoma Double Cab.
In 2017,  a power window motor was added to the back wall cab area at the base of the wall. Located on the passengers side, the power window motor prevents our dual and triple subwoofer box from fitting behind the seat. Our single subwoofer box will still fit all of the 2017 Tacoma Double Cab models. The power window motor does not appear to be installed on the SR5 models.
Subwoofer Box Fitment
All of our 2005-2017 Tacoma subwoofer boxes still offer up to 6 inches of mounting depth. This allows you to fit a wide variety of full size 10 inch subwoofers in the box. When installing the box, the plastic trim molding will need to be removed from the back cab wall. Then slide the box down in behind the seat. The notch in the back of the box fits around the rail on the back cab wall.
All of our subwoofer boxes are built to order and made in the USA
A complete listing of all our subwoofer boxes available for Tacoma Double Cabs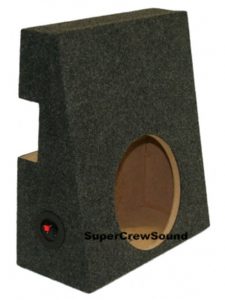 If you have any comments or suggestions let us know. Contact us at Support@supercrewsound.com