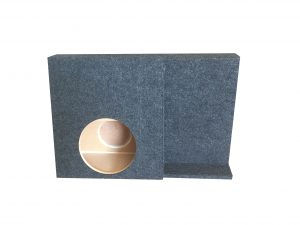 Everyone seems to have an opinion and as a subwoofer box manufacturer we provide boxes that come with or without dividers as ultimately it is the customers choice.
Subwoofer box divider
Things to consider when deciding whether to add a divider or not are:
1)  Sharing air space will not affect the subs performance. If you have two subwoofers requiring 1.0 cubic feet of air per sub and your box has 2.0 cubic feet the subs will share the space and perform fine, provided they are the same sub and receive the same signal.
2)  Putting a divider into your subwoofer box will provide a stronger and more rigid box and give it better internal bracing.
3)  If one of your subwoofers blows, having a divider will allow you to continue using the other subwoofer and decrease the chance the other subwoofer will blow.
If you have thoughts one way or another on dividers we would love to hear from you. Email us at support@supercrewsound.com and give us your feedback.